Our aim is to help simplyfy forcasting market trends and key levels to watch, along with teaching Tecahnical Analysis via 3 training courses.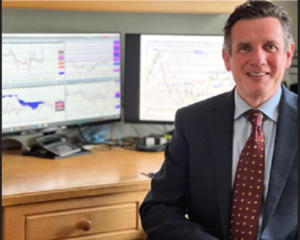 Having spent 35 years working in the City of London, I have set up Fact Not Fiction Forecasting to provide Financial markets research that is clearer, simpler and easier to understand. Also I am available to help train people/teams who work in Financial markets and would like to have the ability to understand these charting techniques, which have worked so well for centuries, since the 1600's.
Why ?
Whilst working on the floor of one of the world's largest FX dealing rooms over the last 3 decades, I witnessed immense change, however one thing that did not change was the amount of Economic research produced that was often too long and over complicated.
Also, much of this long and over complicated research often did not forecast correctly where the market ended up going.
Luckily in the early 1990's I was introduced to Technical Analysis, which after being skeptical of at first, I realized was actually an easier and clearer way of looking at Financial markets.
I became fascinated with Technical Analysis because it made clients globally want to talk and trade more with the bank/myself as I offered something different to the run of the mill analysis, which they received from other financial institutions and they also could see the benefits of this type of analysis.
Over the last 3 decades I have been very fortunate to work and learn alongside some truly inspirational chartists and become a member of the Society of Technical Analysts.
Forecasting key levels to look for in financial markets should be simple I feel, cutting through a lot of the mist and noise.
Please look at our how we can help you page for information of how we can help you with our training, or please call for a
discussion to see how we can help you and your company by formulating a course that is tailormade to your requirements.
We can also provide multi time frame analysis of financial markets on a one of or regular basis, whether that be daily e mails or via client seminars/webinars. Just let us know what you would like.